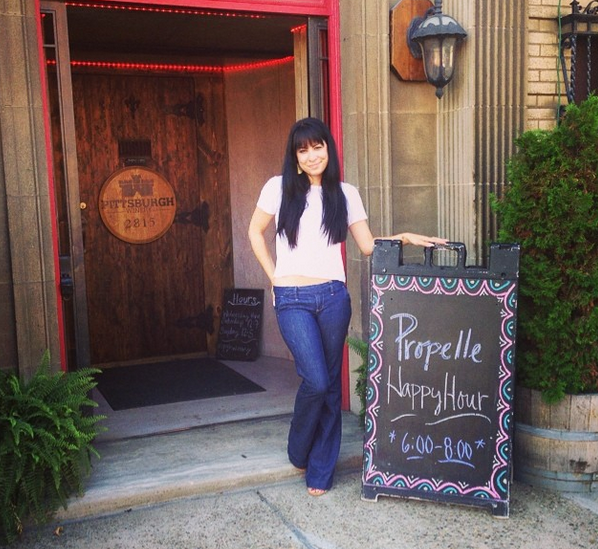 It's time to celebrate the dog days of summer at the next Propelle Happy Hour!
Are you ready to have a super special evening with some amazing women?
Join us at the Pittsburgh Winery on September 8th from 6-8pm for an evening of invigorating conversation with a roomful of Pittsburgh's most fabulous women entrepreneurs.
We're excited that the East End Food Co-op will be serving as our food sponsor this month!
Meaning, we'll have some delicious (and healthy!) treats to share with you.
While you're there, be sure to enjoy a glass of locally crafted wine from Pittsburgh Winery.
Tickets are just $5 in advance and $10 at the door/day of the event.
Featuring Erin Szymanski!
This month's lightening talk will be given by Rock It! member Erin Szymanski of Glitter and Grit.
She'll be talking about how she decided to take the "leap" into entrepreneurship.
More about Erin:
Erin Szymanski has long been obsessed with the fashion industry. In her youth, she would sneak around the constraints of being grounded from TV to watch the runway shows on CNN. In her adult life, she wrung a comprehensive and inherent understanding of business from a tech school education, a career in accounting, and life. She then applied that savvy to her dreams, and Glitter & Grit was born, in June 2013.
Glitter & Grit is an intimate, hip wedding boutique where brides can find alternatives to the cookie-cutter dresses and accessories offered by mainstream vendors to suit the uniqueness of that biggest day.
The Details
What: Propelle Networking Happy Hour Where: The Pittsburgh Winery, 2815 Penn Ave, 15222 When: September 8, 2014, from 6:00 - 8:00 p.m. Cost: $5 in advance; $10 at door